Go to your Flickr account (or whatever online host you use), click on the third to last page in your album, select the third picture on the page. Post and explain. (Cheating a bit and going third last album, third pic, since that's how I organize my stuff.)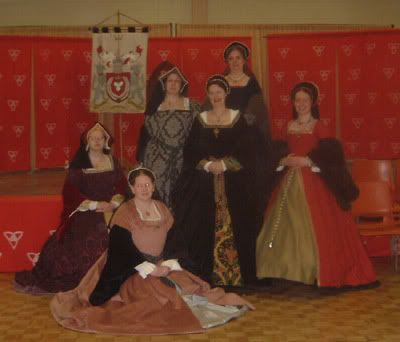 This is a pic of my peeps at our "coming out" event, where all the Tudor Ladies wore the dresses we'd spent the last 8 months diligently patterning and sewing ourselves for the very first time. This was Winter War 2004, right before I was banished to the wilds of Edmonton, and at this point I still didn't know I was going. I was also apprenticed to Tangwystl that day, so it was about the most special event ever. Happy memories.
And while we're here, how about some linkspam:
If the shoe fits
Where beauty eats BRAAAAIINNS!
So hot! So cold!
And yes, I totally want that calendar.