So I saw this ring on a museum website: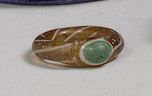 Details of the image are as follows:
Glass rings and bracelets, 1st century B.C.–4th century A.D. Roman
Average ring diam. 7/8 in. (2.2 cm) (do you think that is outer or inner diameter? I wonder)
I decided I wanted to try to replicate it. I went and bought a bunch of short lengths of stainless in the right size for my finger and experimented.
I started with clear glass for cheapness: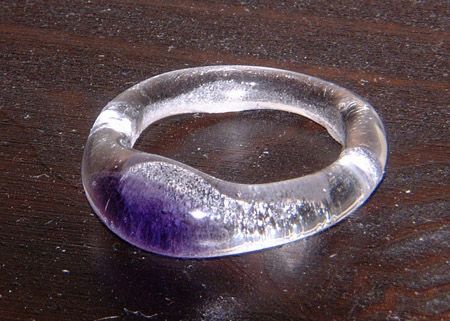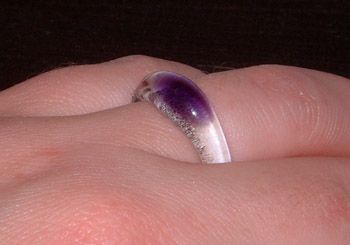 Discoveries thusfar:
1) The rod gets HOT. Wear gloves.
2) The rod is heavy. Can't easily hold and rotate with one hand. Must obtain a mandrel-rest
3) It is hard to melt enough of a gather to do this and then hard to apply it evenly.
4) It is hard to get the gather to stick to the rod.
5) The ring will come off the rod relatively easily. It fits, though tightly (maybe make the layer of release a wee bit thicker next time, or my fingers might just be fat this time of night).
6) The ring broke within minutes of me putting it on.
The existence of a thousand year old roman ring made entirely of glass (and this is far from the only example I've seen) suggests that there is a way of doing this so that the band of the ring is even (mine was not) and so that it stands the test of time. Anyone out there tried this or does anyone have any suggestions?