I've done some poking around on
Ravelry
this week and it is a really amazing site. It's just incredible being able to look at a pattern and then see what other people have done with it. The amount of variation you can get from the yarns available not to mention the modifications people make to patterns makes for a truly incredible source of inspiration and knowledge. It's also wonderful to be able to preview all the patterns available in a book you're thinking of buying and finding free patterns so this hobby doesn't have to cost quite so much. And further to that, to see the results of the patterns other than just the images in the publication. It's absolutely fascinating to see that sometimes something just looks good because the photographer was skilled and no one else seems to be able to make a wearable garment from the pattern.
Today's finished object is a birthday gift for my mum: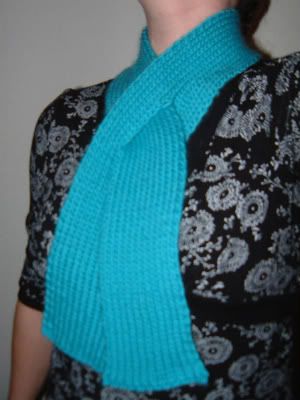 I'm absolutely delighted with how it turned out. She's been very attracted to that color family lately. I hope this particular version wasn't too bright. It was hard to find a super-soft yarn in the exact color I wanted, and in the end super-soft won out over perfect color. It feels AMAZING knitted up and I am very pleased with it. It's a surprise for her so I hope she likes it. Need to mail it off this week so it gets there in time.
This coming week I hope to make a dent in my other knitting projects ahead of the Ravelympics. I'm not sure if I actually want to participate in the Olympic-themed knitting thing. I do have a bit of a moral objection to the Olympics, as I expressed when the last one was running. At least this one isn't happening in a state controlled by a ridiculously oppressive government, however it still represents a great expenditure of public funds that benefits few people. That and I find it boring as hell so I probably won't be watching it. Maybe I'll watch the opening and closing as that is more "arts" than sports. Anyway, the Ravelympics is just having a goal to cast on something as the flame is lit and finish before it goes out. The item itself does not have to have any sort of Olympic tie-in and you are not required to watch any of the Olympic coverage at all. It's really just choosing a project, setting a goal and then achieving it. You can work in "teams" so you can discuss your project with others online and maybe get support. The idea is to choose something that will be a challenge, but one that you can achieve. At this point I don't really have enough experience to know what will be sufficiently challenging to fill 17 days of my time. I don't want to try for something too easy and be done in half the time, but I also don't want to set a ridiculous goal and feel bad if I don't succeed. There's also the Georgia factor. On any given day she can suddenly decide that she NEEDS to be held and I'm simply not going to be allowed to do anything else all day.
I'd like to get at least 2 of the current projects finished before I tackle anything new; the hat for me and the felted tote. The socks are going to take forever and I don't need those needles for anything else, so I'm happy to let those drag on for a while. Next I'm thinking I'd like to attempt a sweater for Georgia. There's a felted purse with a maple leaf I could make as an Olympic tie-in for the above mentioned Ravelympics, but I wonder if I'd actually use it or if I'd just be making it out of patriotism and wouldn't do anything with it when it's done. I've also got my eyes on some felted alphabet blocks for Georgia that would be really sweet.
In other news, we spent today working around the house as Jason was home so we could take turns entertaining Georgia and do some two-man jobs as well. Moved the small desk out of the living room and up into guest room #2, or "the blue room". Right now it's just the room where furniture that is unwanted anywhere else has gone to live, but it's a big room, so it still doesn't feel crowded at all. It just doesn't feel decorated either. Moving the desk out was meant to make room for the swing, but right now the spot is awaiting vacuuming, so there's just this big space there making the living room feel oddly off-balance.
I also hung the prints I got for Georgia's room back before Christmas, so that was excellent. All the bookshelves are finally bolted to the wall and I find myself in the unusual position of having more storage space than stuff to store! I'm sure that won't last long. Also hung my necklace organizers in my closet today. I've really missed being able to see all my jewelery and it has definitely resulted in me wearing it less often. Now I just have to find it all. I have quite a bit hung up right now, but I KNOW I'm still missing some of my favorite pieces. I imagine they are packed somewhere for a trip and never got unpacked as I didn't have anywhere better to put them.
I also did a neat modification to a cheap Ikea clock that I am rather proud of: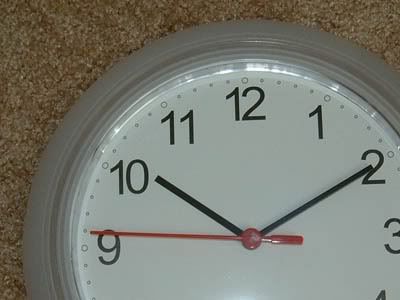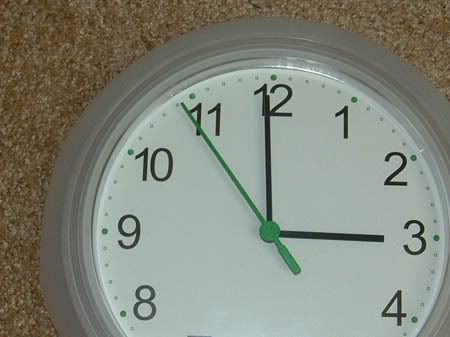 The red second hand was really jarring when I held this clock up against the wall in Georgia's room, so I decided I'd try to snap the cover off. As it turns out it popped off quite easily. I took some lime green acrylic paint to it and I'm rather pleased with the result. A splash of paint on the second hand and a few dots on the face of the clock and suddenly a $3 Ikea clock looks like it was designed for her room!
Need to spend tomorrow doing some hard-core cleaning as we've invited the neighbours over for dinner. The main floor is a mess, so it will probably take all day. I'd be elated if we got it all done though. At the very least I'll have to get the last of the Christmas stuff sorted away and get the kitchen cleaned.
And now a little photodump of all my babies:
Georgia has decided that the fuzzy blanket is the best thing ever.
Sophie the Giraffe makes a pleasing squeak when you chew her. Not from the squeaker but from her gums working on the rubber.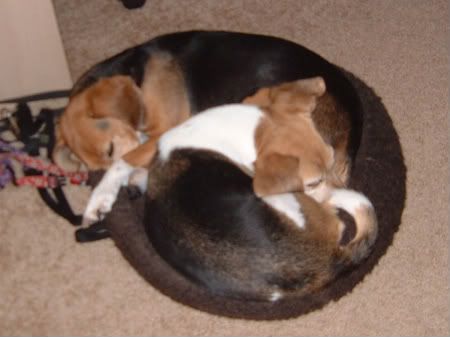 Beagles still get photographic attention despite the new addition. At least when they're being super cute.